Albert Park's revised layout will "reward brave racing" and "penalise poor driving", according to Australian Grand Prix CEO Andrew Westacott.
At the end of last month, race organisers confirmed work had begun on a series of changes to the Melbourne circuit, all with the aim of ending the trend of processional races in recent years.
As a result, lap times are also expected to be five seconds faster than the last race in 2019 as key corners are widened, reprofiled and completely removed in the case of the Turn 9 and 10 chicane.
And Westacott explained how the decision to go ahead with the changes came about.
"If you consider that Albert Park is our playing surface, it's our fairway, or centre court, it's never really had an upgrade [since 1996]," he said.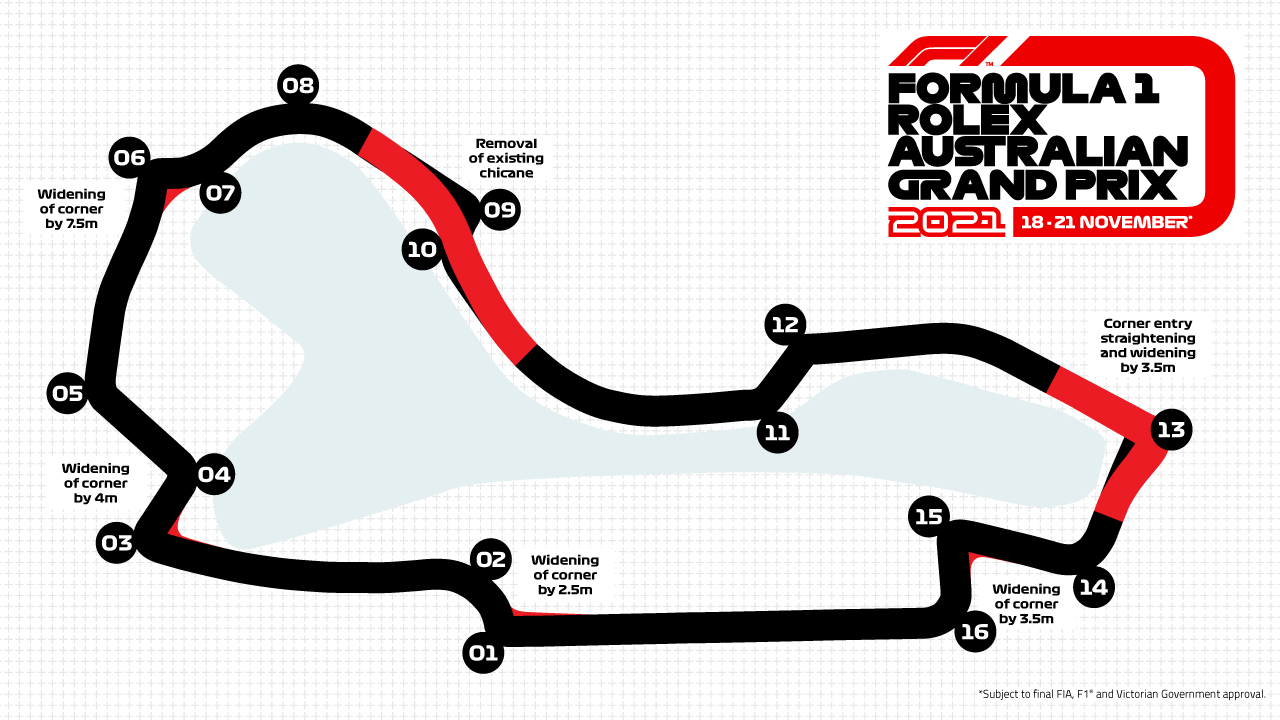 "The need to resurface the track was there and at the same time, we're taking the opportunity to adjust particular turns, either with some minor changes or, like around the lakeside, a rather significant change.
"We're making these changes to increase the competitiveness of the racing, to reward brave racing, to penalise poor driving and to provide greater levels of opportunity," he added.
"We think that is very exciting indeed. It's the biggest set of changes to the circuit since the race moved to Melbourne and the works and construction are already underway.
"As a bonus, it is going to produce unbelievably exciting new viewing locations for corporate grandstands and general admission fans alike."
Also Read:
F1's only current Australian driver, Daniel Ricciardo, welcomed the new-look circuit, admitting the current cars had outgrown the previous layout.
"A bunch of us drivers were consulted on the changes and I was happy about that, we were allowed to give our thoughts and input," he revealed.
"Not all drivers will be aligned of course, but one thing we can agree on is wanting to make race day better.
"I had that in mind when I had my input – widening some of the apexes, creating more of a straight in some places to allow for an opportunity for more slipstreaming.
"[Before] there was a lot of fourth and fifth-gear corners and it's pretty narrow at certain parts.
"It's been somewhere that has been hard to overtake typically because of that width and because it's so fast, in these cars it's even trickier to follow through the high-speed corners.
"By changing some of the apexes and creating some more room, allowing more chance to make a diving overtake, or even change your line to get out of the dirty air, I think it'll really help."
From above 👀

The #AusGP circuit works are in full swing at Albert Park. #F1 pic.twitter.com/oVJEEFt5mw

— F1 Australian Grand Prix (@ausgrandprix) April 1, 2021
Ricciardo also voiced support for the biggest change, removing the Turn 9 and 10 chicane, because the pros of doing so outweighed the cons.
"Removing Turns 9 and 10 is a compromise," he admitted.
"Turn 10 was always pretty challenging because you'd be exiting close to the wall – but the last couple of years, the cars are so good now that the traction out of 10 is pretty easy and the wall wasn't really a threat anymore. The car didn't run out there as aggressively as it used to.
"So removing that chicane, you're now going to have a massive tow out of Turn 6, which is going to be good with the additional DRS zone.
"Widening the apex at Turn 13… I see all of these changes as beneficial for Sunday and we can have some fun on the brakes."