Valentino Rossi could remain on the MotoGP grid until 2024, his father Graziano claims.
The nine-time world champion is currently without a ride for next year after his current Yamaha team confirmed Fabio Quartararo will replace the Italian in 2021.
Now aged 41, Rossi had hoped to use the first half of this season to make a decision on his future, this after he only finished seventh in the championship last year.
Of course, the Coronavirus has prevented that from happening, with all races currently cancelled or postponed until August, but Rossi Sr still has faith that Valentino can compete with the best.
"In my opinion, he can still race for two, three or maybe even four years," Graziano told Rai Sport. "He certainly has no desire to stop today and probably not even in a year. Of this I am sure.
Also Read:
"I am convinced that Valentino is still a competitive rider and can win races if he has the right conditions.
"If, in this difficult situation [with the shortened calendar], experience will be needed, it could even be an opportunity for Valentino."
The most likely option for Rossi in 2021 appears to be a swap with Quartararo, taking the Frenchman's place at Petronas SRT Yamaha.
And just a day after team boss Razlan Razali announced there would be no Rossi-Lorenzo pairing for 2021, he revealed on a Facebook Q&A when the new riders for the following season will be unveiled.
"To be honest we have a few riders on our radar this year, Moto2 riders, including our own Xavi Vierge," Razali said.
"But then again, with no racing at the moment and potentially only ten races this season - and of course, the talk of Valentino Rossi coming with us, it's an open possibility.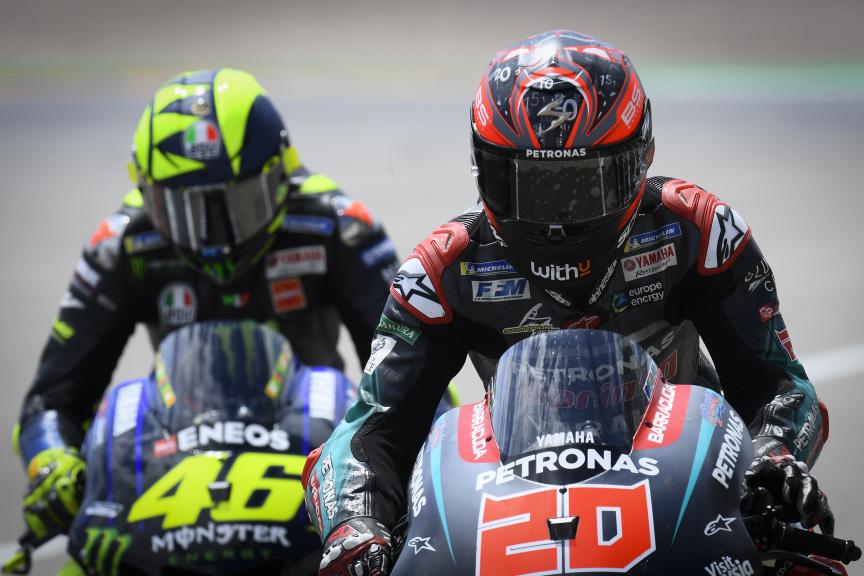 "At the moment we don't know yet - and that's an honest answer - but we will look at all options and I think by July-August we'll have to decide what we're going to do as a replacement for Fabio."
In an official made immediately after the announcement of Quartararo, Yamaha stated that they will support Rossi with a factory bike if he decides to continue racing past 2020.