Carlos Sainz and Kevin Magnussen have called on Formula 1 to "look at" what caused the scary pile-up on the main straight during the Tuscan Grand Prix.
On the Safety Car restart following the Lap 1 crash, four cars were eliminated when Antonio Giovinazzi and Sainz both hit the back of the slow-moving Haas with Nicholas Latifi also involved.
The reason for the melee was leader Valtteri Bottas waiting until the last moment to floor the throttle on the long main straight, creating the concertina effect behind.
"Yeah I'm ok and looks like everyone else is ok so that's the main thing," Sainz told the media afterwards.
"That crash was properly scary. We are doing 290, 300 kph at that point because everyone in front of me felt like we were racing again.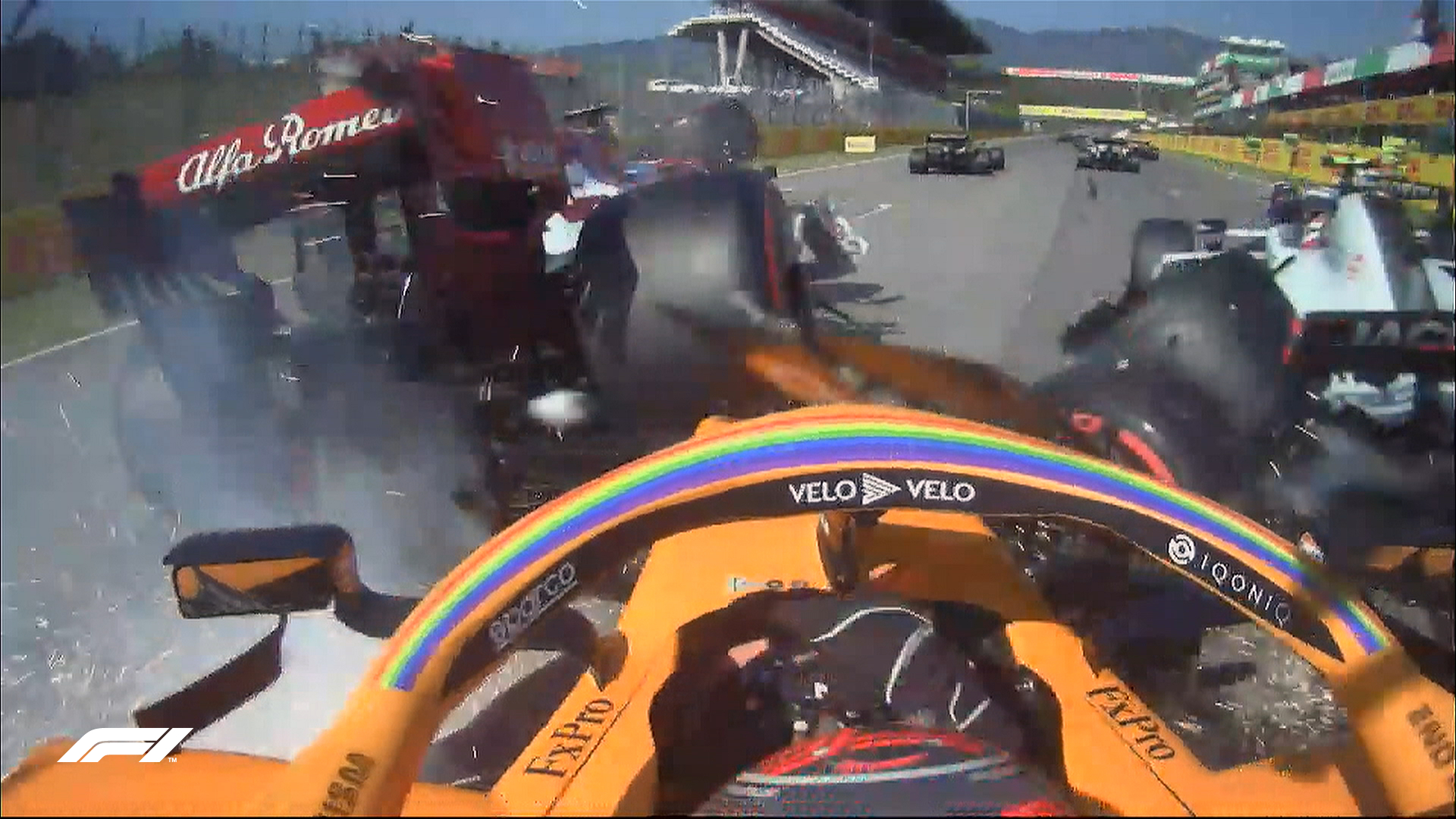 "Suddenly it looked like we were not racing any more and everyone started braking again. I saw everything and it was just too late, it was a big crash.
"This was a similar Safety Car restart to Brazil last year but it felt like everyone in front of me thought the race was going ahead again. We were all flat out then someone realised the race was not on.
"Something definitely to look into because the speeds we are going on the main straight are very, very big. The crash could have been much worse.
"One car could have sideways on the main straight and I could have just taken him out. It is something to learn from here because it is not a nice feeling to do 280kph and suddenly see three cars in the middle of the straight completely stopped."
Also Read:
Though it was Magnussen who the cars behind crashed into, the Dane explained the concertina began ahead of him.
"I haven't watched it from all the cars ahead but my feeling is that somebody maybe backed off to try and go and gain the momentum," said the Haas driver.
"I don't know for sure but certainly the guys in front of me, a couple of cars ahead, they went on full throttle for at least a couple of seconds and then they stopped again, right before the line.
"Then I had to stop, the guy behind me had to stop and somebody didn't react and there was a massive crash.
"So it has to be looked at for sure and improved for the future so we don't have that situation again. It was certainly dangerous and something we want to avoid in future."