Lewis Hamilton and Mercedes have suggested Charles Leclerc was fortunate not to be penalised while battling at the Italian Grand Prix.
The Ferrari driver created delirium at Monza by giving the Scuderia their first win in front of the Tifosi since 2010 as he himself took a second victory in a week.
However, it came after an intense duel mostly with Hamilton, that ended with the Briton ruining his tyres after a lock-up and falling back.
"I don't get a lot of pleasure from finishing third," he admitted post-race. "Going backwards is never a great thing, but still it was a great race. He did a great job, nice and tight for a long time.
"They deserved the win, they did a great job."
Twice during the race, however, Hamilton had the chance to attack, with the most contentious seeing the Briton pushed onto the kerb and then down the escape road at the second chicane.
"That's just racing I guess. I had to avoid colliding with him a couple of times, but that's how the racing is today. We just move forwards," Hamilton stated.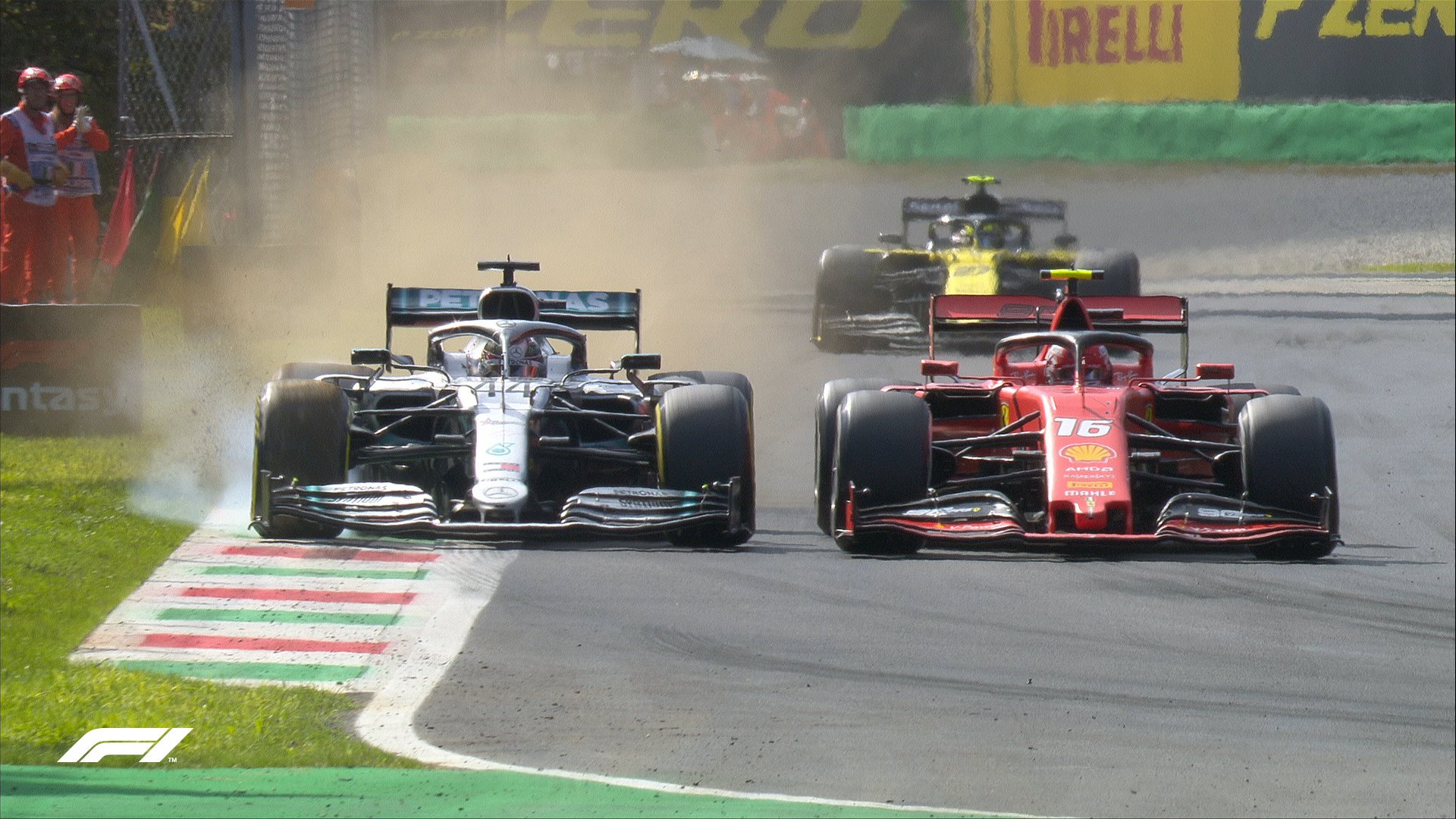 "It seems like the new generation get away with a lot more in that area how they manoeuvre their car compared to the more experienced drivers but it's good knowledge now I know and look forward to the next one [race]."
In response to that first incident, Leclerc was given the black and white warning flag by the stewards, a new initiative designed to keep drivers within the rules without always penalising.
"We've just constantly asked for consistency. There was a rule put in place, and then it wasn't abided by today yet they used different consequences," Hamilton claimed, referring to the need for a driver to keep a car's width under-braking.
"I don't know why that was the case. I guess the stewards woke up on a different side of the bed this morning, I don't know.
"I'm not unhappy," Lewis insisted. "Of course I don't like to go backwards, but he did a fantastic job today. I put on as much pressure as I could.
"We had a couple of close moments, I think we can probably talk about it in private together, but there's nothing major, and we continue to race. I'm looking forward to more races together."
Also Read:
His Mercedes boss Toto Wolff wasn't so kind to Leclerc though.
"He drove a hard but brilliant race and Ferrari had the strongest package. We threw two of our guys at him and it still wasn't enough," he said to Sky Sports.
"I think his driving was a little bit over the edge, but do you want to give him a penalty in Monza? I think we would have had riots here.
"This is another problem we have, we want to see hard racing but how far does the leniency go. He could have had a penalty for that, pushing Lewis off.
"But I want to give them the credit they had the strongest car here."