A journalist has reported hearing Ferrari threaten Red Bull with legal action in a tense exchange following last Sunday's US Grand Prix.
After a bad race for the Italian team in Austin, with Sebastian Vettel retiring and Charles Leclerc 50 seconds behind race winner Valtteri Bottas, Max Verstappen suggested the sudden struggle was unsurprising as they were no longer cheating.
The Dutchman was referencing a technical directive issued earlier in the week which covered the fuel flow sensor amid speculation that Ferrari had found a way around it.
That led to team boss Mattia Binotto approaching his Red Bull counterpart Christian Horner in the paddock post-race.
"We saw the English journalists in a meeting with Christian Horner and the tension in the air was cut with a knife," MotorLat reporter Yhacbec Lopez said explaining what took place.

"I was standing outside the Red Bull hospitality when I saw Mattia Binotto pass in front of a group of journalists and Horner. Mattia watched on closely before he returned to his own hospitality but came back a few minutes later.
"Horner said goodbye to the journalists present and then Mattia headed inside the hospitality and looked for Horner, who was at the entrance and began a clear, blunt exchange.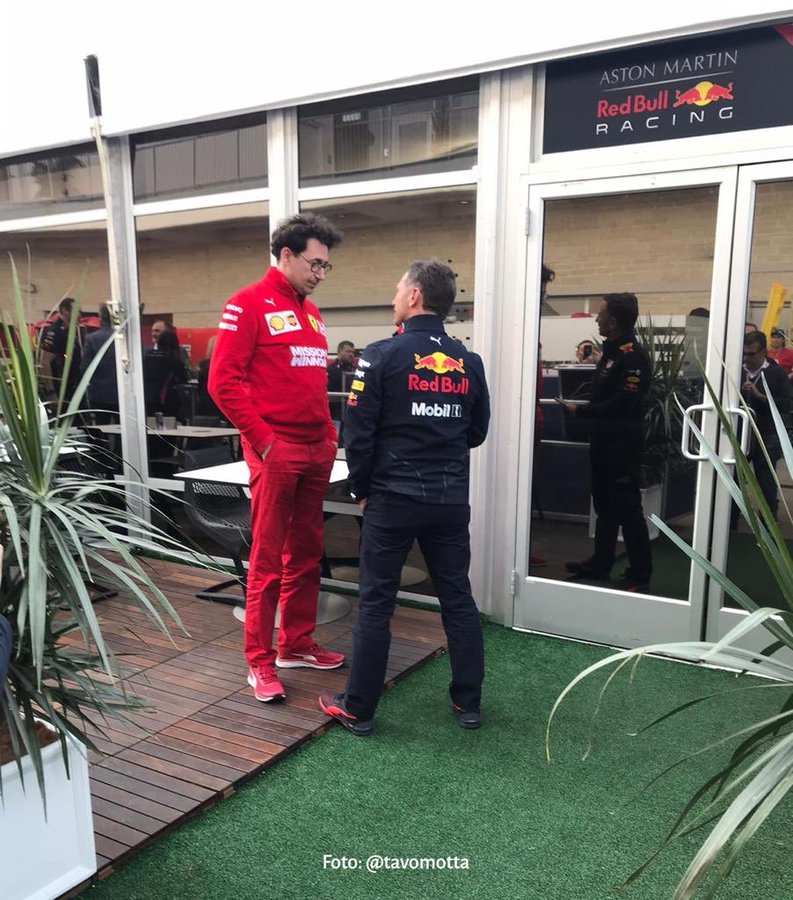 "Mattia demonstrated why he is a leader. He spoke firmly with Horner and there were complaints, what I managed to hear was a warning about legal actions.
"Horner explained that he only shared his opinions and Mattia replied in a strict tone, the level of the discussion went up. Evidently the discussion was full of tension."
What backed up Red Bull and Mercedes' suspicions was Ferrari's normal engine advantage had been diminished both in qualifying in the race, something Binotto put down to running more downforce.
Offering his view, F1 motorsport director Ross Brawn refused to be drawn.
"From the outside, it's hard to explain the drop-off and I certainly don't want to speculate about the latest FIA technical directive relating to fuel flow metering," he began.
"What is clear, though, is that Ferrari struggled in Texas, especially when it came to tyre management. It wasn't so much about making them last, but more about getting them to work properly.
"It's true track conditions changed a lot over the course of the weekend, as the temperature went up significantly, but it's equally true that Mercedes and Red Bull did a better job of adapting to the changing conditions.
"There's a lot to do in Maranello over the coming days to analyse, reflect and come up with countermeasures, especially as this will also be useful for next year."